Melbourne Heartbreak. A Personal Reflection
Posted on January 30, 2017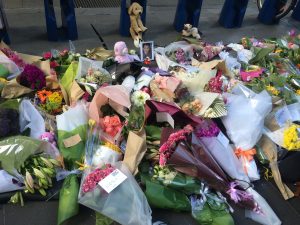 For those of us who live in Melbourne Australia and no doubt for many across the world, the recent senseless killing of five innocent victims by a man speeding up the footpath into lunch time crowds is simply judged as abhorrent.
Last week, I went to dine and work in the RACV Club of which I am a member. Outside were two separate memorials made up of flowers, teddy bears, cards, photos and notes. Those passing slowed their walk, sometimes stopping - quietly absorbing the scene confronting them. They shared in the grief of loved ones who for most, the victims are personally unknown. It was apparent that many walked away with heavy hearts and falling tears.
My primary reflection as I moved between the two memorials was two-fold.
The first was that relationships matter. It often takes events like this to drive home the importance and appreciation of those we have in our lives. To hold each other a bit longer To encourage each other a little more To express appreciation more often To give of ourselves and our resources more freely
Secondly, I was mindful that none of us knows when our last day might finally arrive. Those who died were aged from three months to their early thirties - all non-deserving of a premature earthly departure. Both they and their loved ones never suspected that this particular Friday would be that day - the day that would cause them to sleep in the blankets of death rather than returning to the warm beds of home. It served to remind me that while we have breath it is a life to be lived fully with gratitude, with purpose and intent. To enjoy what we have and those around us. To make a meaningful contribution to the lives of others, to the society we live in - just as those Melburnians exemplified for us in assisting the injured and dying - some in their last moments. It served to remind me how often I find myself complaining and getting worked up over things that in light of this tragedy count for absolutely nothing.
Loving wholeheartedly with gratitude; living a thankful purposeful life that contributes to the betterment of all those in our relational circle, our organisations and our broader world is I think, at the heart of humanity.
---
View latest blog articles